The Backpack Buddies food ministry provides healthy non-perishable food in bags that go to Langston Chapel Elementary and Middle School students each Friday. We currently provide for an average of 36 students.
On Wednesdays just before Open Table dinner we pack the bags from food in our pantry. The food is purchased from America's Second Harvest warehouse in Savannah after submitting request online. Whatever items we are unable to receive from donations we provide from outside sources such as Walmart and Amazon. Monthly reports of food disbursed is sent in online to Second Harvest for their grant funds requirement.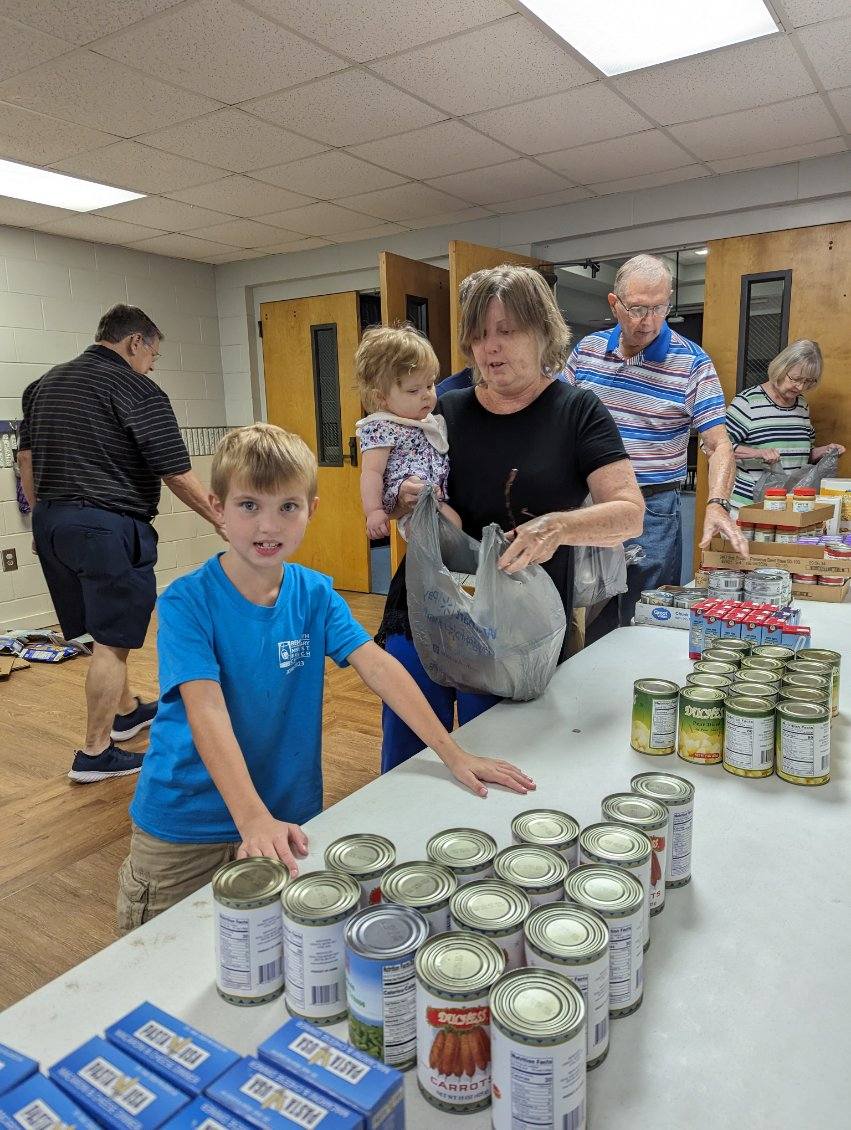 Can Do Spirit Food Pantry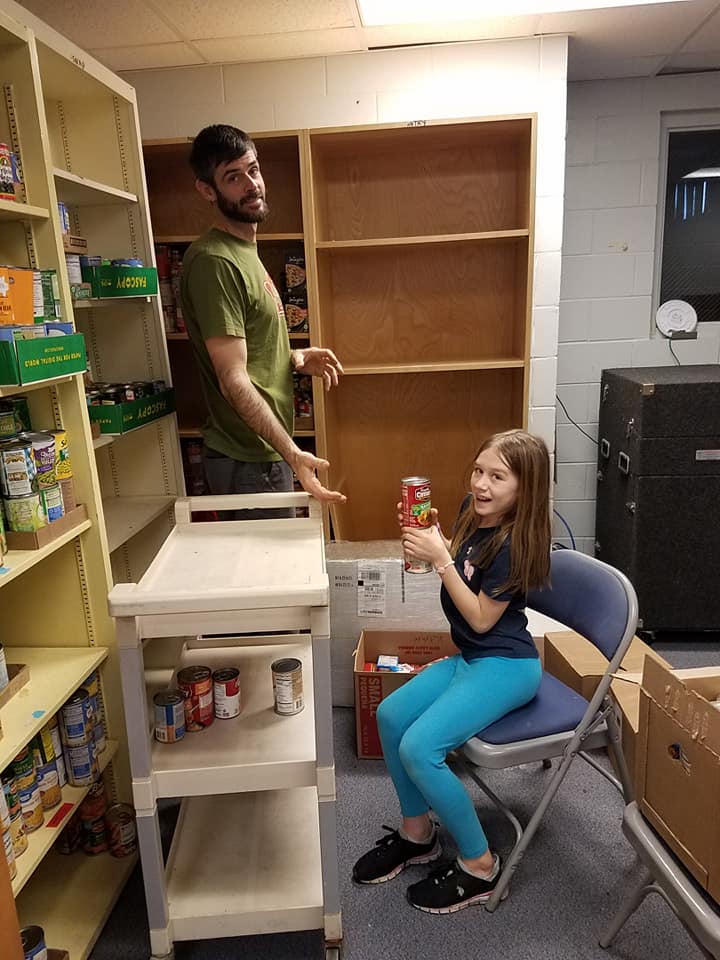 At the church, we often receive visits from folks who are either homeless or just having a hard time meeting food needs for themselves and their families. The Can Do Food Pantry offers a full bag of non-perishable groceries which can be handed to those walk-ins in need. Bags are prepared in advance by volunteers. Pantry food is gathered from both donations and the Second Harvest warehouse in Savannah. Recipients fill out a form which is kept in pantry to record how much food is being given to individuals per month.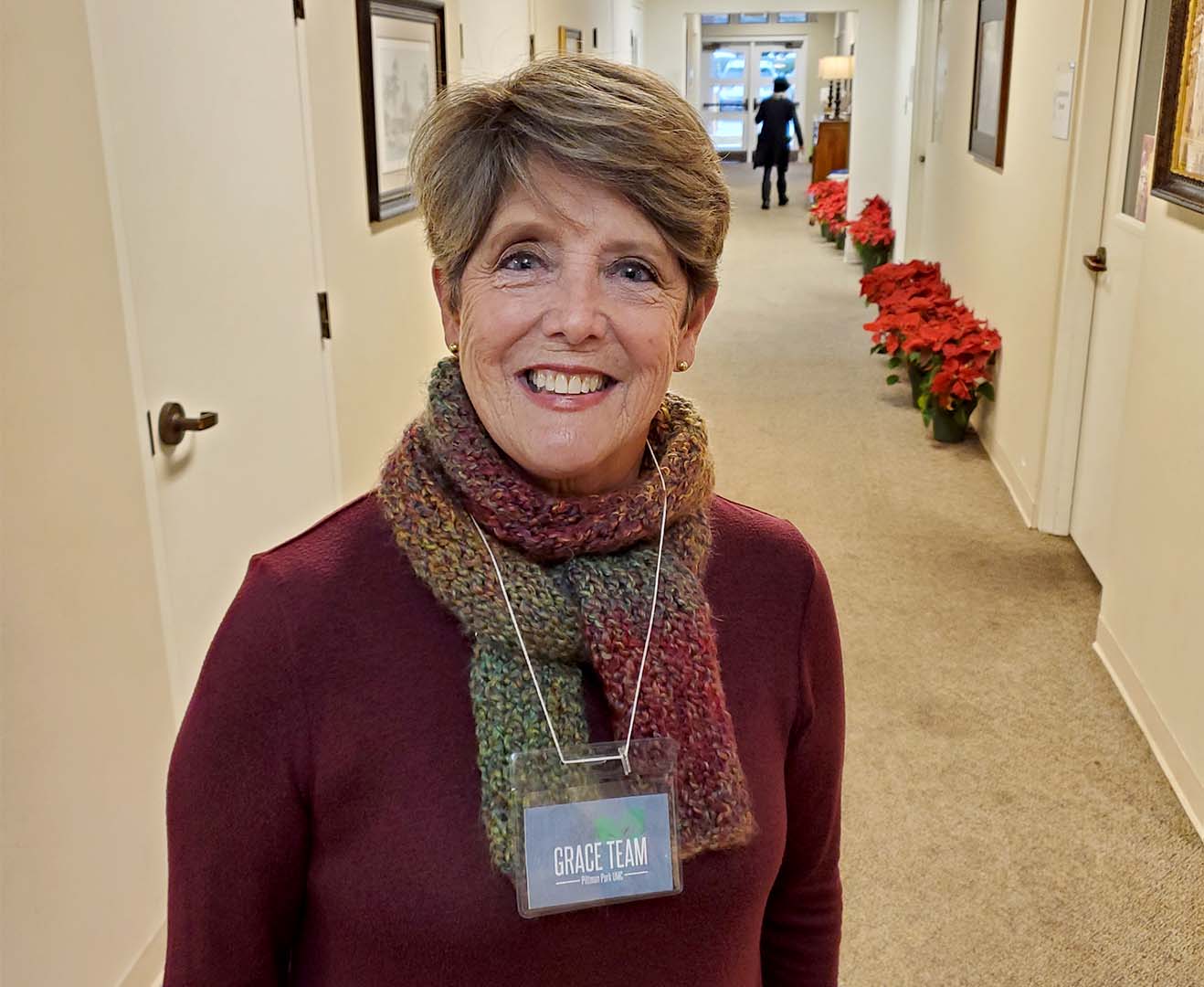 Each Sunday, Grace Team volunteers are stationed throughout the church to ensure everyone coming to worship feels welcome and has a friendly face to help them find what they need. For more information or to participate, fill out the form below.
Sewing for Missions is a Pittman Park mission started in 2007. Julie Good and Tricia Duggan had attended a workshop at Epworth by the Sea. They met a group of women who made little girls' dresses and little boys' shorts that were sent to mission fields. Julie and Tricia organized the "Sewing for Missions" ministry at Pittman Park.
Through the years hundreds of dresses and shorts have been made and sent with missionaries, medical teams, and construction teams to countries in Central and South America and countries in Africa. During the pandemic in 2020-2021 the group made between 800-900 masks and hospital gowns.
In addition to the dresses and shorts that continue to be made, big bibs have been made this past year. These have been given to local assisted living facilities and nursing homes. Baby blankets, little bears, tote bags, and sanitary pads have also been made.
We are not professional seamstress. We enjoy creating, sewing, and fellowshipping together. We pray that as the clothes cover the children' bodies the love of Jesus will cover their hearts.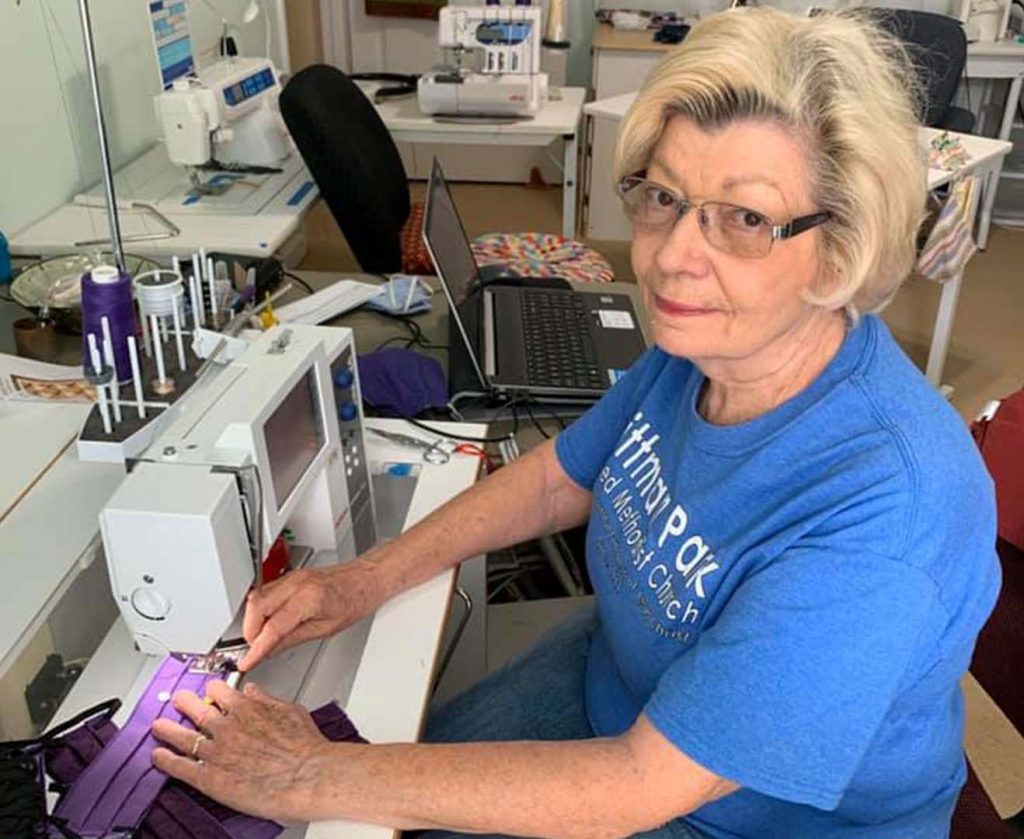 Rebecca's Café is a local non-profit organization that provides free lunches to local communitymembers facing food insecurity. Since re-opening after the pandemic, the café has been providing approximately 200 sack lunches every Wednesday from Statesboro First Presbyterian Church. In November 2022, nearly 900 lunches were prepared and distributed to the Statesboro community. Meals are free to anyone, no questions asked. Each lunch typically contains two sandwiches, a piece of fruit, peanut butter crackers, and a dessert.
The café relies on fundraising and donations to purchase some of the food. We have received grants from the worldwide Church of Jesus Christ of Latter-day Saints, which sends pallets of peanut butter, jelly, mayonnaise, canned tuna, and other staples. Other food items are provided by the Statesboro Food Bank and by our community partners, including local churches such as Pittman Park.
The Pittman Park team of volunteers works at the café on the third Wednesday of every month. We can always use help making sandwiches, packing lunch sacks, and delivering lunches to our neighbors in the local community.
The Amazing Grace Project is a Pittman Park mission started in 2015. Our objective is to meet the needs of area homeless and struggling persons or families through the distribution of Amazing Grace Bags. These bags contain essential items to make daily life a bit easier.
We meet on the third Thursday of each month at 9:30 a.m. to make up 25-35 bags and deliver them to our partners. Our partners are area churches, social service agencies, soup kitchens, the food bank, and others willing to distribute the bags when they see a need. We also offer bags to anyone wishing to keep one on hand if they see a need.
Donations of items and money are appreciated. Items needed: water, disposable coffee cups with lids, hard candy, washcloth, bath soap, shampoo, conditioner, disposable razor, Shave cream, toothbrush with cap, toothpaste, flosser, comb, deodorant, plastic silverware, napkins, instant coffee packets, tea bags, sugar packets, creamer packets, instant drink powder, band aids, alcohol prep pads, ibuprofen, antiseptic wipes, lip balm, tissues, lotion, hand sanitizer, face masks, hand warmers, granola bar, raisins or dried fruit, crackers, laundry pods, dryer sheet, socks, socks, women's personal items, hair tie
pen/paper, reading material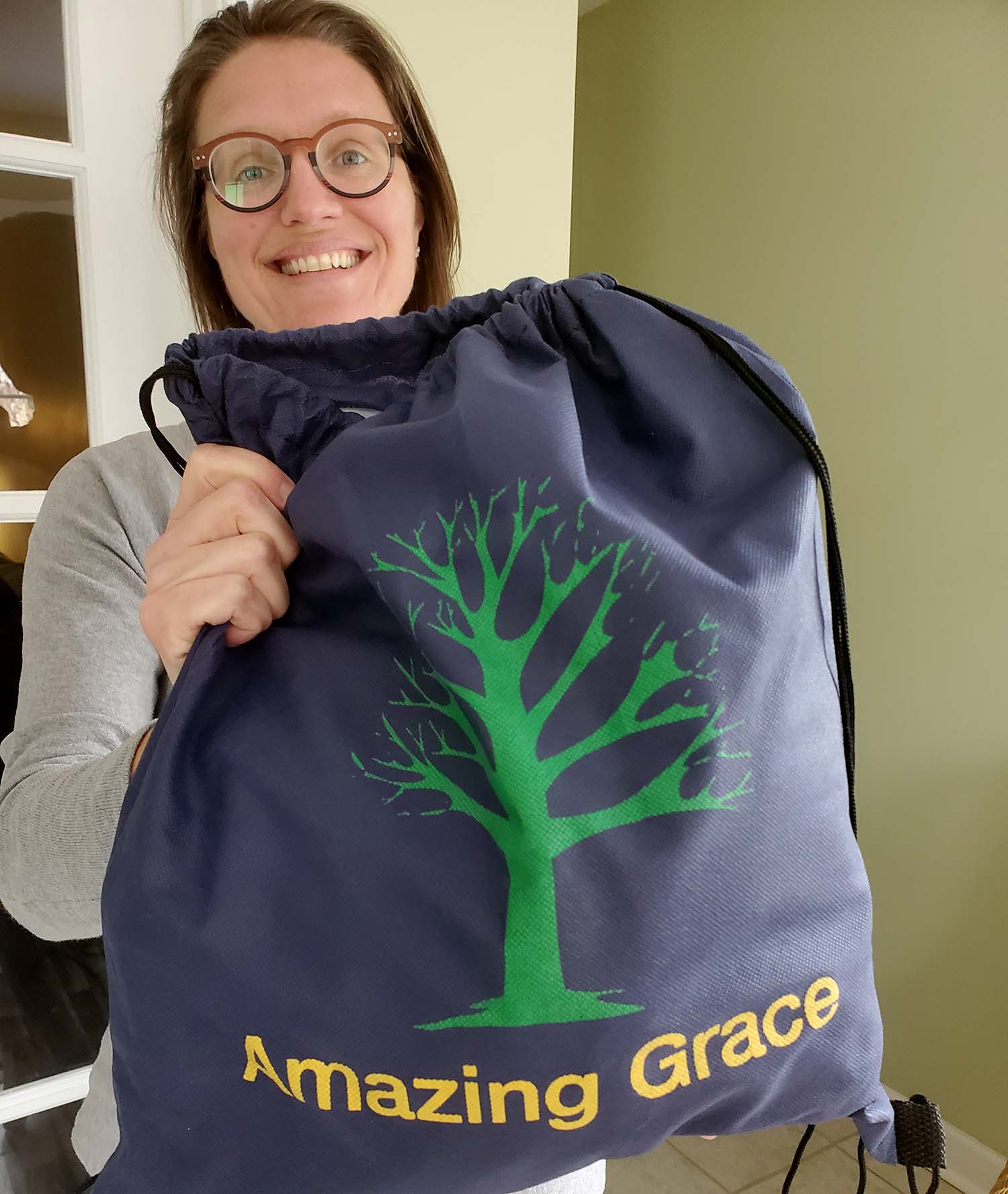 COMMUNITY GROUPS Pittman Park's Missions Committee distributes Missions funds to community organizations as a way to support our local neighbors. Partner organizations are: A.C.T.S. (Area Christians Together in Service), Families 4 Families, Fostering Bulloch, Habitat for Humanity of Bulloch County, Hearts and Hands Clinic, and Open Hearts Community Mission.
CANCER RESEARCH We also have a Relay for Life team to raise money for cancer research.