Pittman Park UMC VBS Camp 2022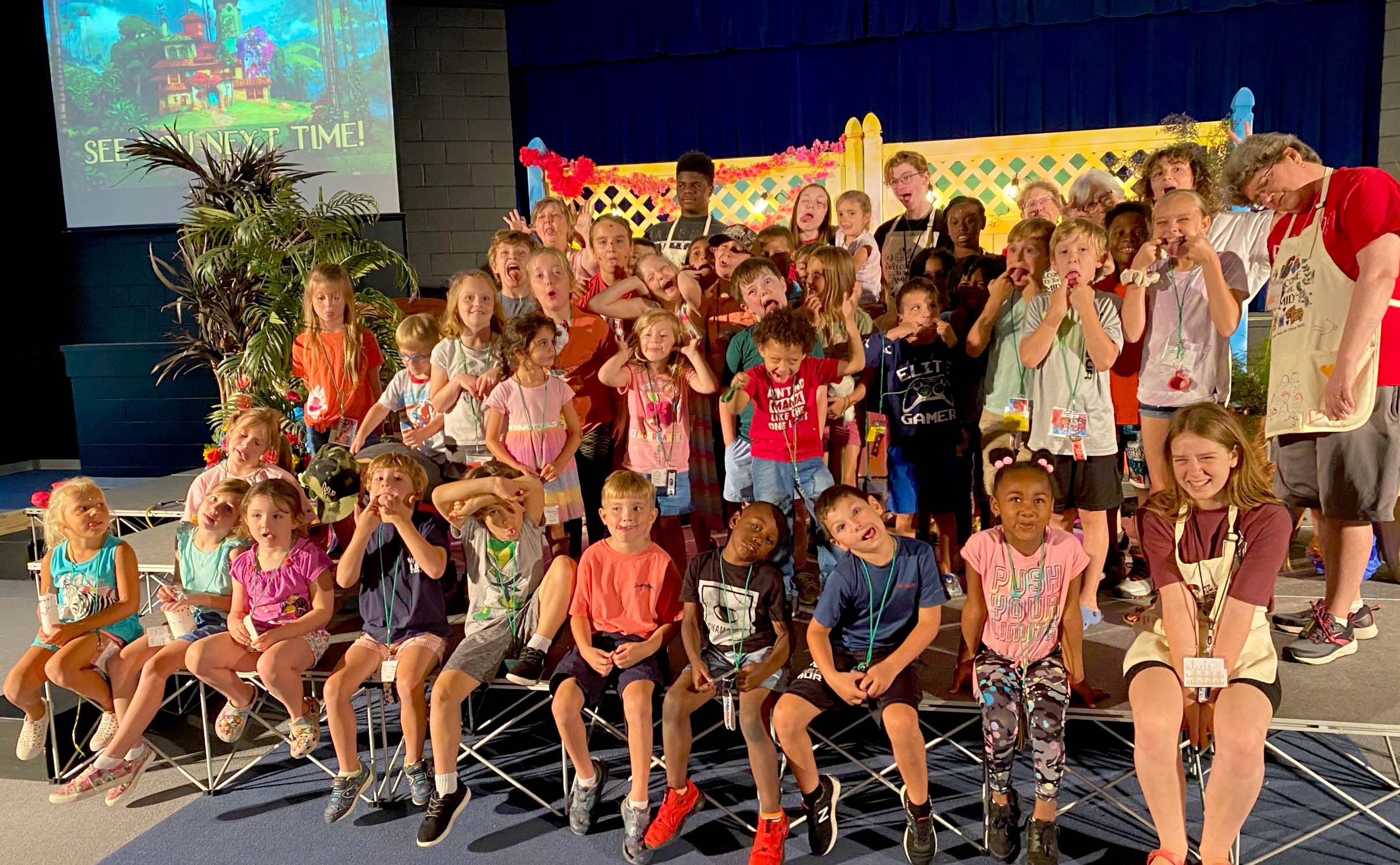 Pittman Park's VBS Camp 2022 was based on the movie Encanto and focused on the theme: Welcome to the Family. We learned about bible characters that had a lot in common with Encanto characters, we learned about the country of Columbia, and we learned that Jesus loves us just the way we are.
Notable camp highlights
Awesome Park Students Helpers
We had several volunteers from Park Students at VBS Camp, and they were a huge help!
Hannah noticed a child who hadn't had breakfast and discreetly gave her some snacks from the volunteer break room.
Avery noticed a child who wasn't interacting well and took him out of class for one-on-one attention.
Awesome Park Kids Helpers
We only had a few children from Park Kids attending VBS Camp this year, but they represented us well!
Jackson took a younger child under his wing and even gave him the raffle prize he had won!
Izzie handed out birthday party invitations to everyone in the whole camp!
Animal Friends
One of our kindergarteners noticed a kitten just outside the door at the beginning of the day Wednesday. Before anyone had a chance to react, she dashed out the door, grabbed the kitten, and brought him inside to the delight of all the campers. We were able to quickly convince the children that the kitten wanted to be outside.
The campers were also thrilled when Bekah (our Youth Director) brought her dog to camp–and carried him around in a backpack carrier!
Only two children opted out of the reptile show on Friday featuring a snake and a bearded dragon.
Business Support
Wavee Shavee Ice offered to supply all campers, volunteers and parents with free shaved ice cups after camp on Tuesday!
Burger King donated a crown for each camper to use in our lesson about Esther.
Quotable quotes
"He comes back every Easter!" -child excitedly confirming that Jesus did indeed rise from the dead.
"He had a baby." -the response one kindergartener gave every day to our review question about the day's bible character. (It was true for Abraham, but not so true for Sampson, Elijah, Esther and Zaccheus.)
Talented Labor
So many from our congregation generously gave time and resources and supplies to make VBS Camp happen, but some volunteers were able to directly apply their talents to make VBS Camp really stand out.
Dalia supplied authentic Mexican cuisine for snack time, including flan and taquitos!
Hayley supplied a hand-painted photo board for campers to put their heads in to pretend to be
Bruno and Louisa from Encanto. She also drew Isabella for us to use for a game.
Mickey donated enough handmade keychains for each child to get one as a gift.
Russ and Sandy, our retired teachers, upgraded their culture and bible lessons with reviews and activities to engage the kids and make each lesson stick.
Lisa, a music teacher, was able to coordinate our boomwhacker time into something quite impressive!
See what great love the Father has lavished on us, that we should be called children of God! And that is what we are!
Thank you to our Volunteers!